I always try to leave the web address and proper citations and credit for the original material. For more of this article, please go read it on its original website.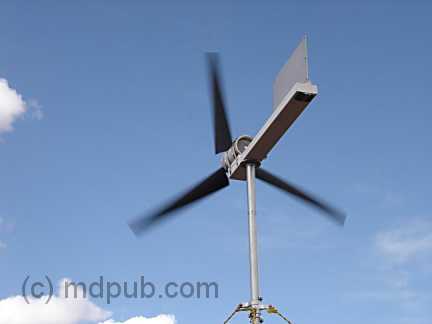 Several years ago I bought some remote property in Arizona. I am an astronomer and wanted a place to practice my hobby far away from the sky-wrecking light pollution found near cities of any real size. I found a great piece of property. The problem is, it's so remote that there is no electric service available. That's not really a problem. No electricity equals no light pollution. However, it would be nice to have at least a little electricity, since so much of life in the 21st century is dependent on it.
One thing I noticed right away about my property is that most of the time, the wind is blowing. Almost from the moment I bought it, I had the idea of being energy independent by putting up a wind turbine and making some electricity, and later adding some solar panels and a wood gasifier. This is the story of how I did it. Not with an expensive, store-bought turbine, but with a home-built one that cost hardly anything. If you have some fabricating skills and some electronic know-how, you can build one too.